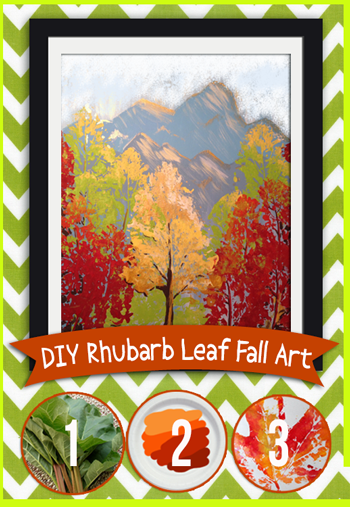 Here is a fun way to create your own piece of fall! A long time ago I had seen rhubarb leaves used to paint incredible, life like trees. With fall upon us, I thought it might be fun to try the technique to replicate some fall foliage…and it turned out pretty well!
Here is how I did it:
1. Gather a few rhubarb or other large leaves.
2. Paint a background. It could be anything really, a nature scene (I chose the mountains that you see), or something fun like a chevron pattern. Use a canvas, cardboard, would, burlap…the possibilities are endless!
3. Spread paint out on paper plates, dip the leaves and place on the canvas. You can use the same leaf to print a couple of times before dipping it in paint again. Switch to a new leaf when changing colors (I used three total for this piece).
4. Add some deep brown accent to the tree trunks and branches. After I had completed the leaf prints I went back and filled in some of the lines with a deep brown. It adds a nice contrast, and it was easy to follow the lines of the veins to maintain the real life tree look.
I began with shades of lime green and yellow for the first layer. I followed that with the red and orange "trees" and then did the one in the center last. I added hints of gold to really add depth and glow.

This could be a really great art project for all ages!

This article featured HERE
P.S. May I ask a favor? Would you follow us on Pinterest or like us on Facebook? It's a great way to keep in touch and we always follow back!