I can't take credit for this idea, it was all my husband (and to think he hates garage sales!). But it is one of my favorites! It was quick to set up and super fun thinking of which toys would be the most fun to "sell."
[su_box title="DID YOU KNOW??" box_color="#c4f370″ title_color="#dd012b" radius="4″]We have a COMPLETE INDEX of Elf on the Shelf ideas?? EVERY Elf on the

Shelf Idea ALL in ONE place!!! It has:
– Uniform picture sizes
– Its ordered new ideas to old
– and you can even make a saved ideas list!
Find the complete Elf on the Shelf Ideas List HERE!!![/su_box]
And afterward, we did actually talk with our kids about getting rid of some of their toys to make room for new ones. So a few boxes went off to Goodwill–thanks Elf! 
Oh! And don't forget to advertise your sale! Click here to print or save the "GARAGE SALE" sign: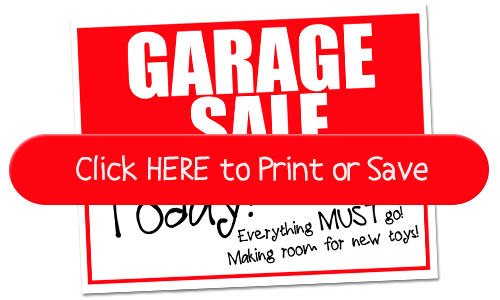 And if you want to save this for later, here is a picture for that: